Are Home Security Systems Worth It
Posted by David O'Doherty on Saturday, April 8, 2023 at 1:19:59 PM
By David O'Doherty / April 8, 2023
Comment

Home security systems are becoming increasingly popular as homeowners seek to protect their families and properties from potential threats. However, some people may wonder if investing in a security system is really worth the cost. In this blog post, we'll explore the benefits of having a security system and help you decide whether it's worth it for your household. How sophisticated should the alarm system be, should you get professional monitoring, security cameras? Consumers have a lot more options these days compared to a few years ago, these days a decent security system you can install in a couple of hours may be a single one time purchase compared to signing a contract with a monthly fee.
Protection Against Burglaries and Break-Ins
The most obvious benefit of having a home security system is protection against burglaries and break-ins. A security system with sensors, alarms, and cameras can deter intruders from entering your home and alert you and the authorities if someone does try to break in. Crime statistics may not be a good enough reason to get a security system as many low crime areas and expensive neighborhoods get burglarized frequently. The peace of mind knowing that your home is protected should someone try to break into your home is worth spending some money on. Being present during a home burglary is surely a terrifying experience so having just a basic alarm system could be enough to guard your home. A yard sign from a security service is the first layer of security as a burglar may just skip any houses with a sign. Professionally monitored security system gives the comfort of knowing someone is alerted when the alarm is triggered and can start to take action. Home security systems offer the ability to have the police called from the monitoring service location and connect directly to the owner to assure them help is on the way and what to do next.
Fire and Carbon Monoxide Detection Part Of Alarm System
Home security systems can also detect fires and carbon monoxide leaks, which can be life-threatening. Smoke detectors and carbon monoxide sensors can alert you and the authorities in case of an emergency, even when you're not at home. This can help you avoid property damage and save lives. All homes and apartments built today must adhere to the local codes regarding smoke alarms and carbon monoxide detection. Typically when an alarm in one part of the home is set off it automatically triggers all the alarms to go off ensuring everyone in the house can hear the alarms and get out. A home security system should have add on smoke detectors and carbon monoxide detection as part of the system features.
Remote Monitoring With Camera System | Security Camera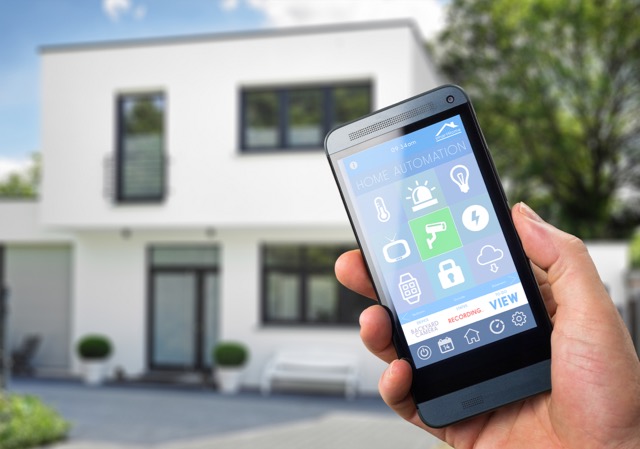 Remote monitoring and control is a vital aspect of any modern home security system. With the use of a phone or tablet, and a system installed homeowners can keep a watchful eye on their property from any location, at any time of day or night. Most security systems include a camera or multiple cameras. A doorbell camera to see anyone who comes to the front door and let you get notified whether you are home or not is the first camera most homeowners get. Remote monitoring allows the homeowner to view footage with a home security camera of their property captured by security cameras on their smartphone or tablet. They can also monitor things like door locks, windows, and other entry points that are connected to their home security system. In addition to monitoring, a home security system also allows for remote control. Residents
can lock and unlock doors or turn on and off alarms from their phone or tablet. This level of control provides greater peace of mind and security, as residents can quickly respond to security concerns as they arise, regardless of their location. This is one of the best benefits of a home security setup.
A Security System May Get Home Insurance Discounts
Homeowners insurance discounts can significantly reduce the cost of protecting your home from unforeseen events. One way to acquire these discounts is by installing a security system in your home. Home insurance companies view security systems as an added layer of protection that can reduce the likelihood of damages or theft. Discounts for a security system can range from 5% to 20% of your home insurance premium. These savings can add up over time and can be reinvested for other home-related expenses. Investing in a security system not only protects your loved ones and your property, but it also saves you money on your home insurance premiums. Get the peace of mind you deserve and talk to your insurance representative to learn more about available discounts for your home insurance with the installation of a security system.
The Cost of a Home Security System
Of course, the cost of a home security system can be a deterrent for some owners. Prices can vary depending on the type and quality of the system you choose, as well as the installation and monitoring fees. However, there are affordable options available that can fit almost any budget. Some systems even offer DIY installation, which can save you money on installation fees. If you decide to get a home security system, most of the big name security companies have a tiered service where you can choose from a selection of options, monitored home security, security camera systems, video surveillance etc. They nearly always require you to sign a contract and sometimes a multiyear contract. So before you have a security system installed do some research on the newer home security providers and what these companies offer. Installing a home security system that doesn't cost a fortune and can monitor your home with one initial payment without additional cost should be considered.
Conclusion: A Home Security Systems Worth
So, is a home security system worth it? Ultimately, the answer depends on your individual needs and circumstances. If you live in a high-crime area, have valuable possessions, or simply want an additional level of protection a home security system can be a worthwhile investment. It can protect your home, your family, and your belongings from potential threats like a home invasion or burglary. Plus, with the added convenience of remote home monitoring and control, it can make your life easier and more secure. A basic security system might be all you need or you may need a home security system with window or door sensors, keypads, cameras inside and outside, 24 hour monitoring. The best security solution and the best chance to stay safe is to be aware of your surroundings and monitor your home at various times of the day and night and look for areas where a burglar could hide or gain access to the house without being seen.
This post was written by David O'Doherty, a licensed real estate agent since 2007 helping buyers and sellers in Clayton, NC and the Greater Triangle Area of North Carolina. He is committed to providing his clients with exceptional service and personalized attention throughout every step of the real estate process. If you're looking to buy or sell a property in Clayton, NC, or the surrounding areas or have any questions about the local real estate market, don't hesitate to contact David O'Doherty today. Call or Text (919) 601-2268 or email [email protected]