Housing Market Report - Johnston County, NC - September 2023
Posted by David O'Doherty on Thursday, November 2, 2023 at 9:22:49 AM
By David O'Doherty / November 2, 2023
Comment
Housing Market Report - Johnston County, NC - September 2023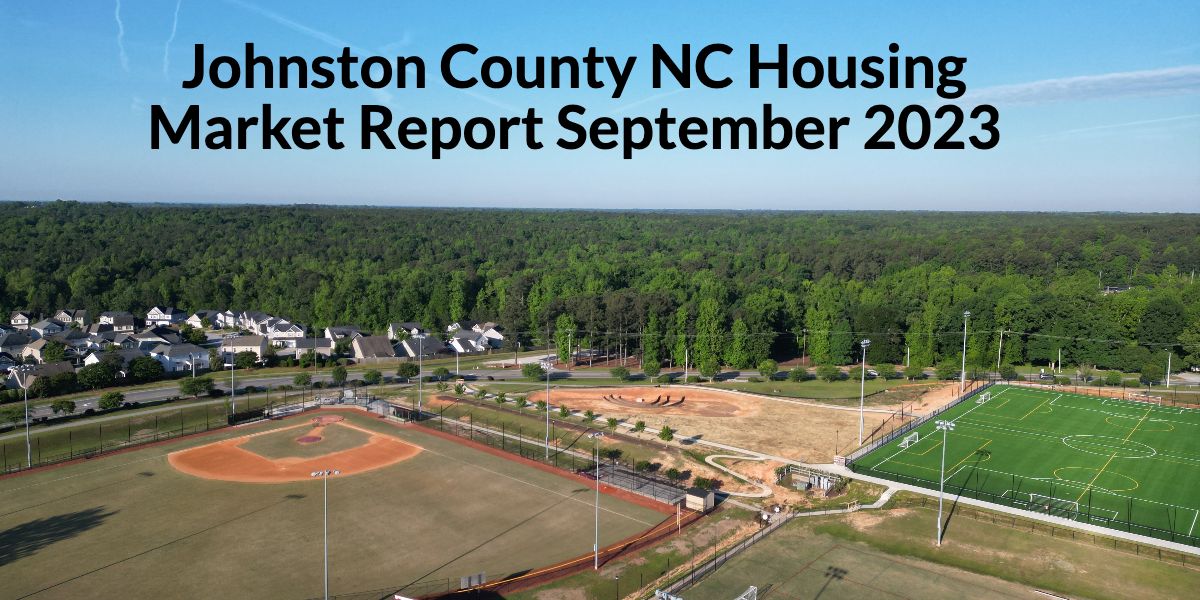 New Listings: In September 2023, Johnston County experienced a substantial 31.1% decrease in new listings compared to the same month in 2022. The county recorded 359 new property listings in September 2023, down from the 521 new listings in September 2022. This decline is a significant indicator of changing dynamics in the real estate market. Several factors could contribute to this decrease.
Potential sellers may be holding off on listing their properties, possibly due to uncertainty in the market, changes in personal circumstances, or the fact that they have a 2.75% interest rate on their mortgage and do not wish to switch that to a 7.75% one. Additionally, a shortage of available properties might be influencing sellers' decisions, as they may be concerned about finding a new home themselves in a competitive market.
Closed Sales: Closed sales in Johnston County saw a substantial decrease in September 2023, down by 24.2% compared to the same month in 2022. In September 2023, there were 341 closed sales, whereas there were 450 closed sales in September 2022. This decline in closed sales is a result of the increase in mortgage interest rates which are at their highest in a number of years.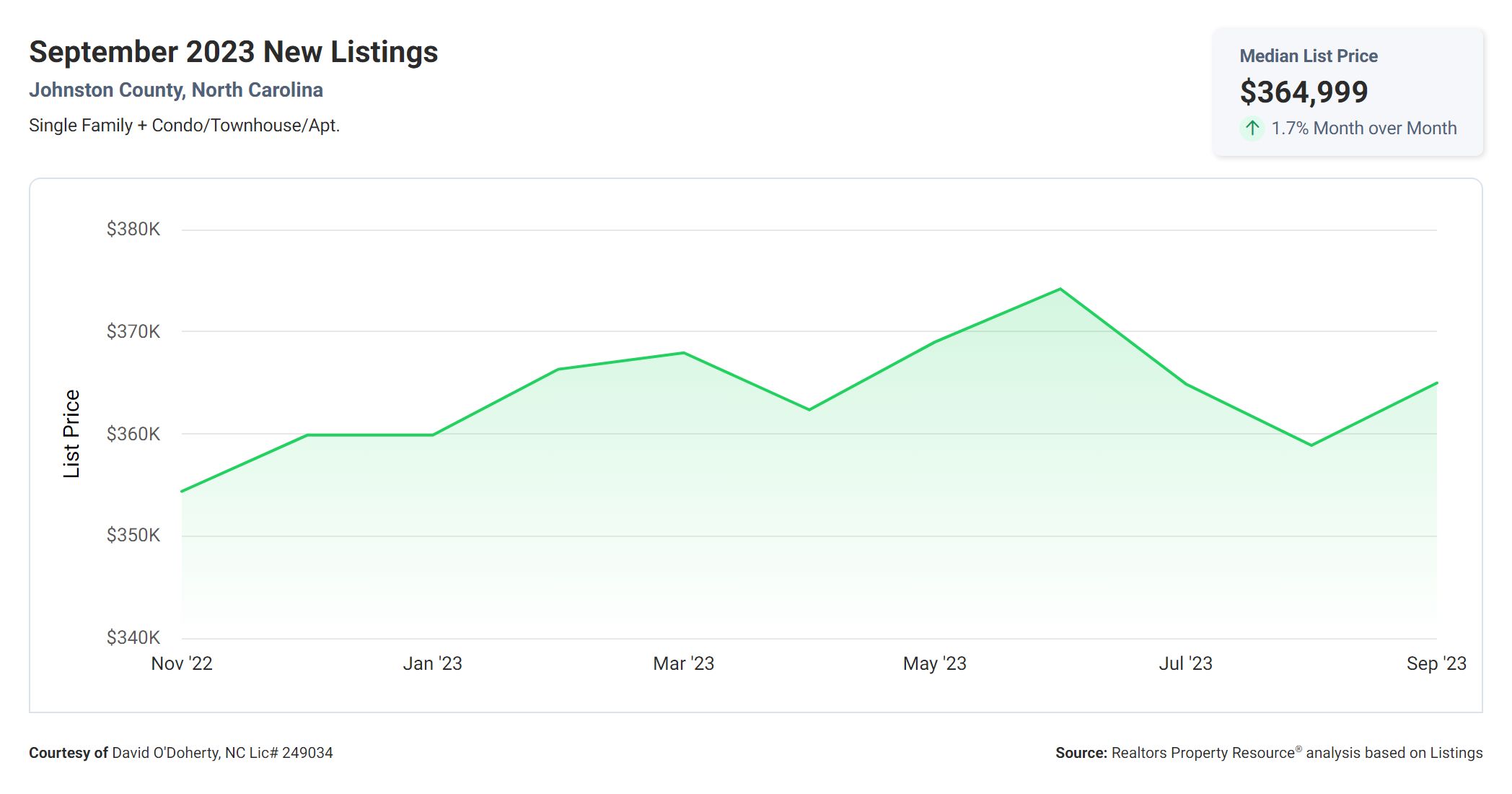 Rising home prices and competition among buyers could be influencing this trend, making it more challenging for some buyers to secure a property. Additionally, the decrease in new listings is pushing prices for primarily resale homes in desirable neighborhoods.
Median and Average Sales Prices
The median sales price for homes in Johnston County in September 2023 was $351,000, reflecting a 5.1% decrease compared to September 2022. This indicates some adjustment in home values, with the median price showing a notable decrease.
The average sales price in Johnston County for September 2023 was $375,396, showing a modest decrease of 0.7% compared to the average sales price of $378,039 in September 2022. The decrease in the average price suggests that the composition of homes sold may have shifted slightly towards lower-priced properties.
Total Dollar Volume and Price Negotiation
The total dollar volume of home sales in Johnston County for September 2023 was $128.0 million, marking a substantial decrease of 24.8% from the $170.1 million recorded in September 2022. This significant drop indicates changes in market activity.
Price negotiation indicators showed slight changes, with the percent of original list price received decreasing by 0.2% from 98.3% to 98.1%, and the percent of list price received also decreasing by 0.2% from 99.6% to 99.4%. These minor shifts in price negotiation may indicate a market where buyers have slightly more negotiating power.
Days on Market and Affordability
The average number of days on market until sale increased from 21 days in September 2022 to 26 days in September 2023, representing a 23.8% increase. This suggests that homes may take slightly longer to sell in the current market.
The Housing Affordability Index decreased by 4.8% from 83 to 79, indicating a slight decline in housing affordability in Johnston County. This may be due to factors such as rising home prices or changes in household incomes.
Inventory and Months Supply
The inventory of homes available for sale decreased significantly, with a 28.2% drop from 1,062 homes in September 2022 to 762 homes in September 2023. This decrease reflects a tightening of the housing market.
The months supply of inventory decreased by 12.0%, declining from 2.5 months in September 2022 to 2.2 months in September 2023. This suggests that the market is experiencing reduced supply relative to demand, potentially leading to increased competition among buyers.
In summary, the Johnston County housing market in September 2023 experienced a notable decrease in new listings, closed sales, and inventory compared to the same month in 2022. Home prices saw some adjustment, with a more significant decrease in the median price. The total dollar volume of sales decreased substantially, indicating shifts in market activity.
Price negotiation remained relatively stable, and the market exhibited a slight increase in days on market, suggesting that buyers may have more time to make decisions. However, the decrease in affordability and the tightening of inventory underscore the evolving market conditions in Johnston County. Buyers and sellers should stay informed about these trends and seek the guidance of real estate professionals to make informed decisions in this dynamic market.
Johnston County, NC Housing Market Report August 2023
Johnston County, NC Housing Market Report July 2023
Johnston County, NC Housing Market Report June 2023
This post is brought to you by David O'Doherty, a licensed real estate agent since 2007 helping buyers and sellers in Clayton, NC and the Greater Triangle Area of North Carolina. He is committed to providing his clients with exceptional service and personalized attention throughout every step of the real estate process. If you're looking to buy or sell a property in Clayton, NC, or the surrounding areas or have any questions about the local real estate market, don't hesitate to contact David O'Doherty today. Call or Text (919) 601-2268 or email [email protected]