How Will Complete 540 Affect Towns In The Triangle
Posted by David O'Doherty on Tuesday, March 13, 2018 at 1:55 PM
By David O'Doherty / March 13, 2018
Comment
Latest News and Updates:
The N.C. Turnpike Authority and the N.C. Department of Transportation held a series of public meetings in February 2018 to provide information on the project, share the preliminary design of the project and gather feedback from the public.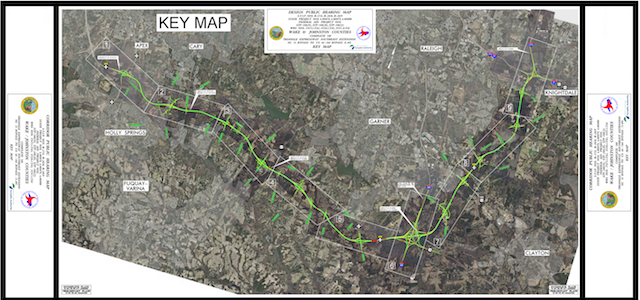 List of subdivisions near the preffered route for I540
Where is 540 Going Now?
Is your property in or near one of the routes that will become 540? About 50,000 people live in the area under consideration by the NCDOT. Complete 540 is the name of the project that would extend the Triangle Expressway from the NC 55 Bypass in Apex to the US 64/US264 Bypass in Knightdale completing the 540 Outer Loop around the greater Raleigh area. Towns and areas affected include Apex, Holly Springs, Garner, Raleigh, Clayton and Knightdale, some rural parts of Wake County and parts of Johnston County. In Knightdale the northern section of the 540 Outer Loop runs from the US 64/US 264 Bypass to I-40 in Durham County. For people living in the 27527 zip code of Clayton, residents of Archer Lodge, Flowers Plantation, Riverwood Athletic Club, this is the fastest way to get to points like the Raleigh Durham Airport, RTP, Triangle Town Center, Falls Lake.
Impact of 540 on Local Towns.
Hundreds of concerned residents of the impacted area showed up to Wake Technical Community College to watch a video presentation by the NC Department of Transportation and inspect huge maps of the different routes and what neighborhoods will be effected. It obviously has a big impact on the area as all the TV news stations were in attendance. Complete 540 will not only affect the homeowners directly but also the many thousands of people who live in areas such as Fuquay Varina, Garner, 40/42, Clayton, Archer Lodge, Wendell, who commute to Research Triangle Park for work or travel to Raleigh or Cary. Greatly reducing travel times and connecting the outer towns and areas will be the desired effect.
When Will 540 Be Completed?
So when will 540 be complete and how far along is the process? According to the brochure the NCDOT has listed 8 steps that have to be completed in order to have cars on the highway. They are now on step 2, the anticipated date for the road to be open to traffic is the Spring of 2022, nine years from now. There are 10 different possible routes that are being considered, the most controversial is the red corridor which runs through a large part of Garner and was removed from consideration and then put back on.
What Happens If Your House Is In The Path Of 540
Step 8 of the Complete 540 project is when the NCDOT would begin the process of right of way acquisition and that is estimated to start in Spring of 2017. There is no funding in place for this or for construction however judging by the looks on some of the faces I saw yesterday that was small consolation. I stood next to one couple who were looking for their neighborhood and the gentleman was able to pick out his house which was right in the middle of the lilac route. Another lady picked out her house of 3 years and was pretty upset when she learned it was located in one of the proposed routes. With the continued growth of this part of Wake and Johnston County it seems inevitable that the road will be funded and Complete 540 will be the finished outer loop road for Raleigh. If you are concerned about buying a house that might be in or near one of the routes, make sure you know for sure before you proceed. If I can help you find a house that won't be affected by the new section of I540 call David at (919) 601-2268