Johnston County NC Market Report April 2023
Posted by David O'Doherty on Monday, May 22, 2023 at 4:19:24 PM
By David O'Doherty / May 22, 2023
Comment

The real estate market in Johnston County, North Carolina, has experienced some notable changes in April 2023. Let's delve into the key metrics based on the data provided by Triangle MLS.
New Listings In Johnston County
In April 2023, Johnston County saw a total of 397 new listings. This represents a 16.3% decrease compared to the same period last year. The decline in new listings indicates a tightening of inventory in the county, which can potentially lead to increased competition among buyers. New listings refer to properties that have recently become available on the market, these listings can include both new construction homes as well as resales of properties that have been previously owned. New construction listings are often in high demand, as they boast modern amenities and design features that appeal to buyers who want a turnkey property. However, resales can also offer unique advantages, such as established neighborhoods and mature landscaping. The supply of new construction homes that came online since the 1st is only about 170.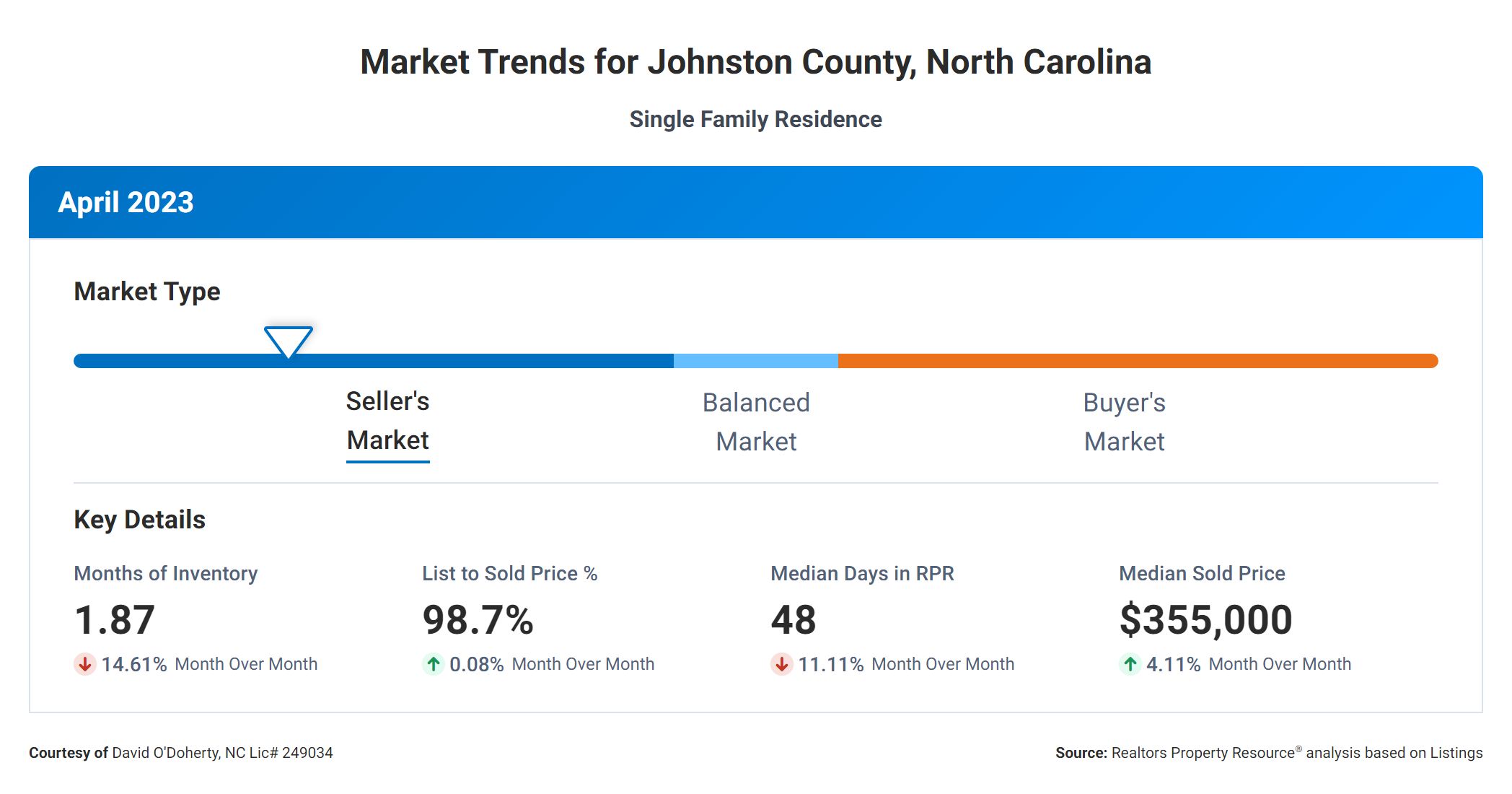 Closed Sales Trend Lower
The number of closed sales of homes in Johnston County in this month 2023 amounted to 379, reflecting a 20.6% decrease from the previous year. This continued the trend of decreased market activity, suggesting a slowdown in the real estate market in Johnston County. However when you explore the numbers a little more, home values are up, days on market are up and number of homes for sale is up. Pending sales are down as well all of which is very similar to many national markets. There is a pent up demand for homes and sellers are simply not going to lower their prices when the very real possibility of an interest rate decrease could return soon.
Median Sales Price Holds Value
Despite the decline in new listings and closed sales, the median price in Johnston County has shown resilience. This month the median sales price reached $355,000, indicating a 0.6% increase compared to the same period in 2022. This suggests that home prices have remained relatively stable, even amidst market fluctuations. The lack of homes for sale is typical in the NC housing market where despite interest rates keeping many buyers on the side lines there are buyers around who for a variety of reasons are making offers.
Average Sales Price In A Strong Housing Market
Similarly, the average sales price in Johnston County exhibited a slight increase. This month the average sales price was $369,447, representing a 0.5% growth compared to the previous year. This indicates that, on average, home prices in the county have been resilient despite the slowdown in market activity. There was a slight dip in sales price in March of 2023 when the price was .06% lower than March of 2022, which was the first drop in over a year...short lived perhaps. As we head into the Spring market the buyers who have to move will have to contend with a lack of inventory and likely multiple offer situations in some cases which will drive prices back up.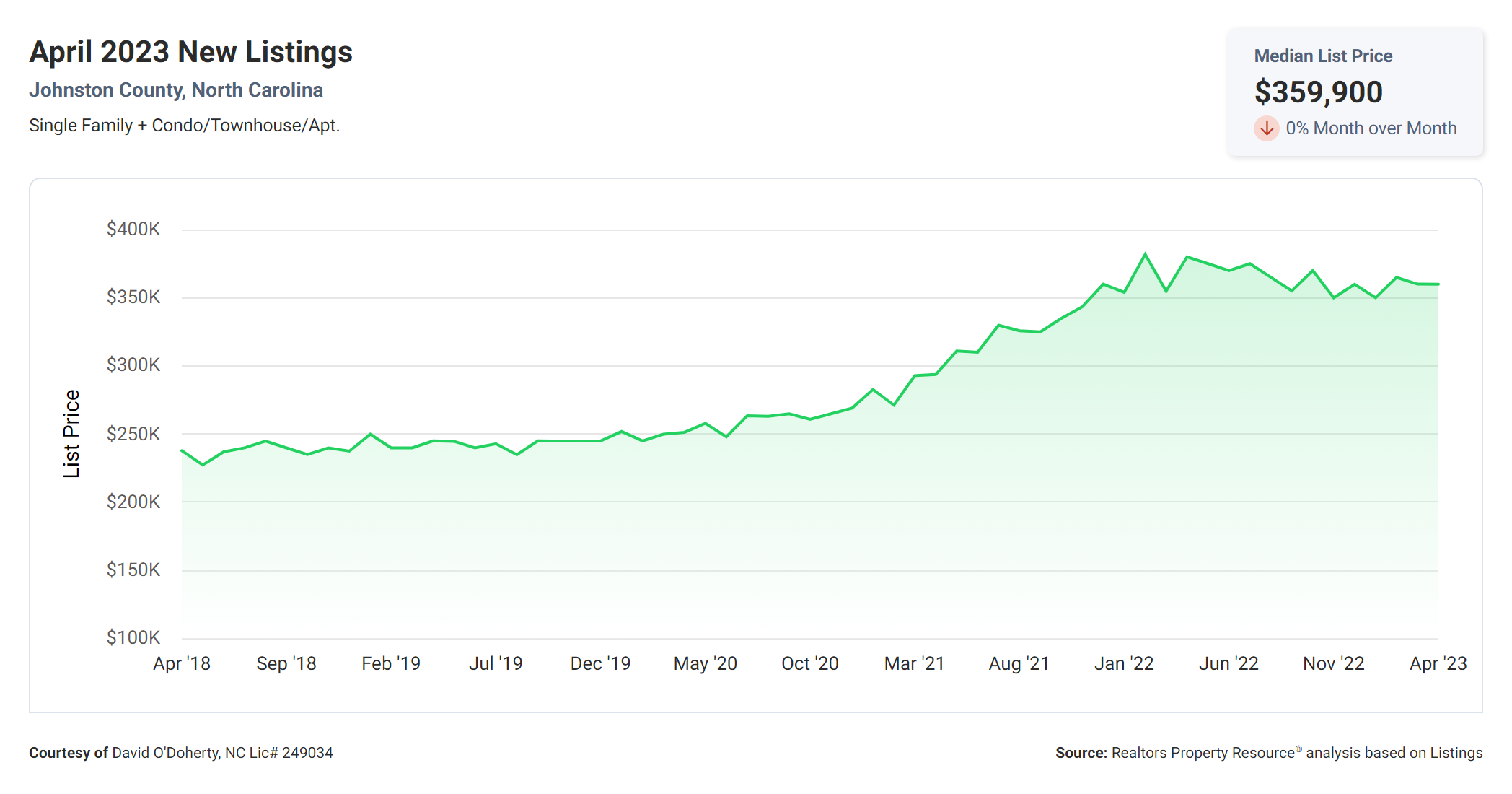 Total Dollar Volume:
The total dollar volume, which reflects the overall value of real estate transactions, continued to decrease in April 2023. The total dollar volume for the month was $140.0 million, experiencing a further drop of 17.9% compared to the same period in 2022. This decrease suggests a reduction in the overall value of real estate transactions in Johnston County.
Percent of List Price Received:
The percentage of list price received by sellers provides insights into buyer demand and negotiation power. This month recently sold homes in Johnston County received 98.7% of the list price, representing a decrease of 4.3% from the previous year. This suggests a slight shift towards a more balanced market, where buyers may have slightly more negotiation power. A near 20% drop in homes sold over the past year when sellers received 103.1% of list price could be indicative of the future but don't expect a flood of homes to suddenly drop their price per square foot.
Homes For Sale Days on Market Until Sale
The average days on market until sale increased significantly in April 2023. Properties in Johnston County stayed on the market for an average of 39 days before finding buyers, compared to just 11 days in the same period of 2022. This indicates a slowdown in the pace of sales and a shift towards a more balanced market, allowing buyers more time to consider their options and not be in a multiple offer situation.
Housing Affordability Index
The housing affordability index dropped to 88 in 2023, indicating a decrease in housing affordability compared to the relatively balanced market of the previous year (index of 101 in 2022). The decline in affordability can be attributed to the increase in home prices combined with other factors affecting the local housing market. There is a year-over-year increase in the growth in towns such as Benson, Selma, Smithfield and Four Oaks as the affordability of land forces builders to look further out in the county.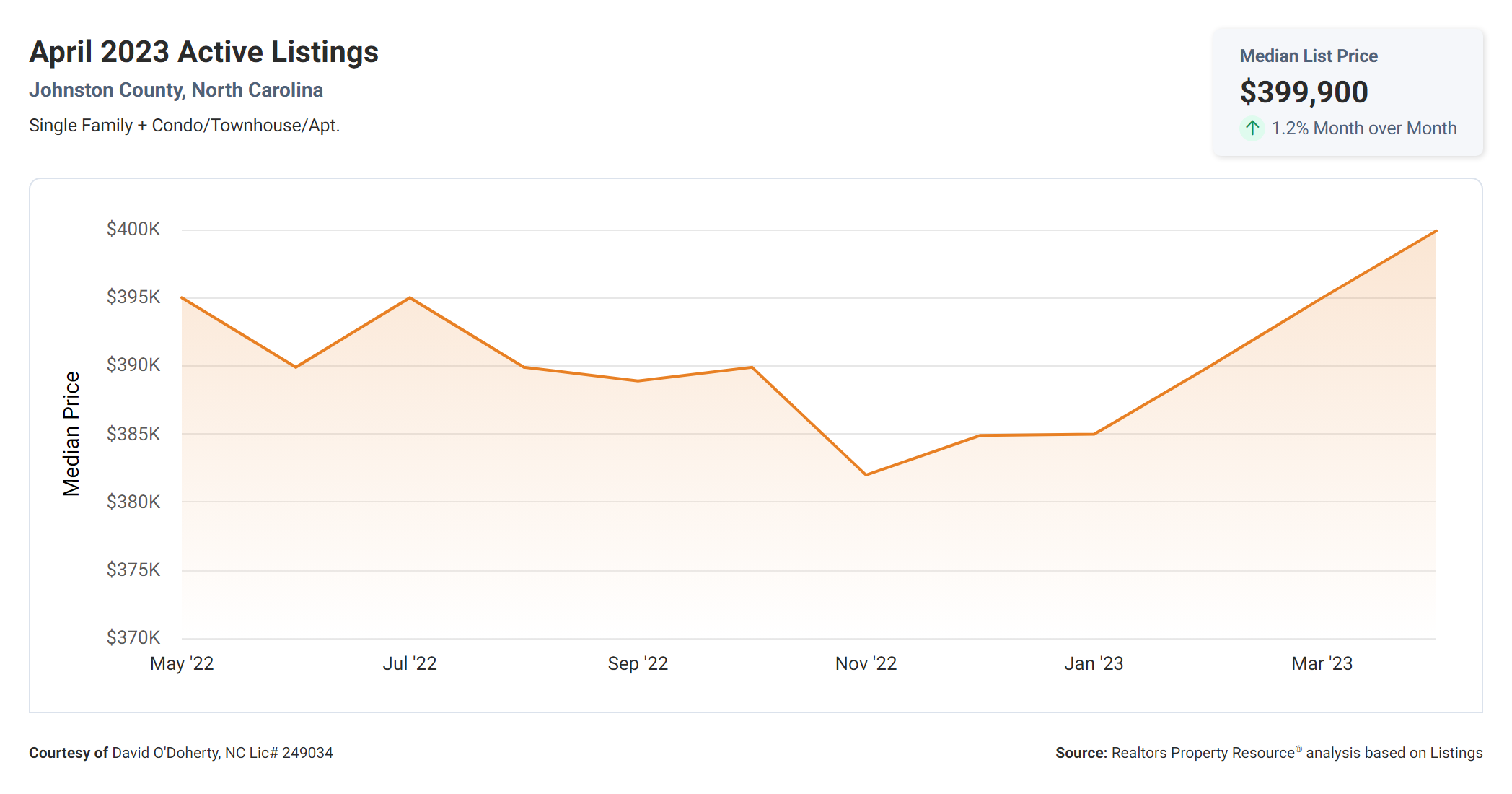 Conclusion: The real estate market in Johnston County, NC, has experienced a slowdown this month in certain regards. The decrease in new listings, closed sales, and total dollar volume suggests a tightening of inventory and reduced market activity. However, median and average sales prices have shown resilience, indicating stability in home prices. The shift towards a more balanced market, as seen in the decrease in the percentage of list price received and the increase in days on market until sale, provides buyers with more negotiating power and time to consider their options. With careful analysis of market trends, both buyers and sellers can make informed decisions in Johnston County's evolving real estate market. As one of the fastest growing counties in North Carolina Johnston County is on a growth spurt that will impact both sale price and activity as people move here drawn by affordability, schools in Johnston County, mild climate and a central location. The typical home costing less than most other similar towns in the Triangle. The portals like Zillow and Redfin and others all point to the Southeastern United States as one of the top regions buyers have set their sights on.
This post was written by David O'Doherty, a licensed real estate agent since 2007 helping buyers and sellers in Clayton, NC and the Greater Triangle Area of North Carolina. He is committed to providing his clients with exceptional service and personalized attention throughout every step of the real estate process. If you're looking to buy or sell a property in Clayton, NC, or the surrounding areas or have any questions about the local real estate market, don't hesitate to contact David O'Doherty today. Call or Text (919) 601-2268 or email [email protected]