New Construction Homes Johnston County NC
Posted by David O'Doherty on Tuesday, April 4, 2023 at 9:51:33 AM
By David O'Doherty / April 4, 2023
Comment

If you're in the market for a new home, you may be considering a variety of options, including existing homes, fixer-uppers, or new construction. While each option has its pros and cons, building new offers several advantages that make them a great choice for many buyers. In this blog post, we'll explore why you should consider new construction homes in Johnston County, NC. Check out the latest new construction homes for sale in Johnston County, North Carolina here.
Customization Options
When it comes to new construction homes, one of the biggest advantages is the ability to customize and select various features and finishes during the building process. Most homebuilders offer a design center where buyers can browse and choose from a range of options for flooring, cabinets, countertops, lighting, and more. This not only allows for personalization of the home's design but also ensures that buyers get exactly what they want without having to go through a renovation process after moving in. From selecting the type of windows to the style of door handles, the selection process can be vast, and it's up to the buyer to choose what best suits their preferences and needs. With a new build many items can be tailored to the buyer's liking, making it a fantastic opportunity to create a truly unique and personalized home. Depending on which builder you choose in the Johnston County area each has their own set up for meeting with buyers after going under contract.
Energy Efficiency Of New Construction
Energy efficiency is a crucial consideration for new homes. With the increasing focus on sustaining the environment, energy-efficient homes are becoming more popular. Builders are now incorporating various energy-saving features like high-performance windows, efficient insulation, and modern HVAC systems into new construction homes. Energy-efficient appliances are becoming a standard and more accessible to consumers. These appliances have low energy consumption, reducing the environmental impact of operating appliances in the home. An efficient HVAC system can maintain the desired temperature in a home at a significantly lower cost. The heating and cooling systems are usually the biggest contributors to energy consumption in the home. A high-efficiency system reduces energy usage, resulting in lower energy bills.
New technologies have also made it possible to control the heating and cooling systems from a remote location, reducing energy consumption even further. Overall, energy efficiency is the way to go for new construction, as it benefits both the environmentally conscious and the homeowner's wallet. There is a dramatic difference in the energy efficiency when comparing homes for sale today versus even five or ten years ago. A builder who wishes to promote the energy efficiency of their new listings will have the results independently verified and they will provide the home buyer with an estimate of what their monthly energy costs could be.
Low Maintenance
New homes are designed with low maintenance in mind. They are built using efficient materials and systems that require minimal upkeep. These homes often feature new roofs that are designed to last for decades without requiring any major repairs. Advances in paint, building materials and construction methods have been substantial in recent years and home builders if they want to remain competitive are adopting the latest special features and products available in the industry today. A simple and straightforward design can reduce the number of features that require maintenance. For example, avoiding complex rooflines or ornate trim can help reduce maintenance needs.
Additionally, the appliances used in todays homes are often highly efficient and require little maintenance. With the right upkeep, these appliances can last for many years without needing to be replaced. However it can be said that certain appliances made today are prone to breaking down so keep an eye on the warranty and what it includes. Using high-quality, reliable systems such as HVAC, plumbing, and electrical systems can reduce the need for maintenance and repairs. Using materials that are easy to clean, such as tile and or LVP flooring, can reduce the amount of time and effort required for cleaning. All in all, new builds are a great investment for anyone looking for a low-maintenance living experience. They offer all the benefits of modern construction, including lower utility bills, improved indoor air quality, and increased comfort and convenience.
Modern Amenities In New Construction Homes For Sale
Modern amenities are often the highlight of a newly constructed home. These homes are designed with contemporary and innovative features to make living more comfortable and convenient. One of the essential features of a new home is upgraded security systems. Security has become a significant reason many people choose to buy new. These amenities include installed cameras, motion detectors, and smart locks that are programmable from a smartphone. Another feature of modern homes is entertainment availability. Many of today's home come with pre-installed sound systems, flat-screen TVs, and movie theaters to make streaming and watching easier. With the rise of remote work and the gig economy, many homes are being built with dedicated home offices or flexible spaces that can be used as a workspace. If you are building a home from the ground up, you probably will not be able to change the structural aspects of the home but designing a space either in the living areas or a bedroom as a flex space is something you could discuss with the builder. Also many of today's homes include outdoor living spaces such as patios, decks, and porches that allow for outdoor entertaining and relaxation.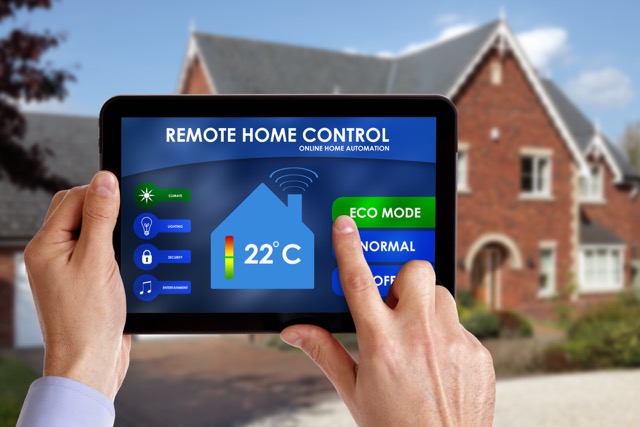 The addition of modern amenities not only makes daily living more comfortable but also adds value in the event of a resale. A newly built home is a worthwhile investment with its state-of-the-art features that make living easier and more enjoyable. When choosing to build your dream home, one of the choices you might have is where you want cable outlets. This is a great time to maybe spend a little extra and add cable and or internet connections throughout the house. Think about outdoor areas, the garage or perhaps unfinished space that you may decide to finish later
Johnston County New Home Warranty Protection
Warranty protection is an essential aspect of buying a new build. Builders typically offer warranty protection on various components of the house, such as the roof and the structural elements, to provide homeowners with peace of mind in case of defects or malfunctions. The length of the warranty period can vary, but it typically covers a range of issues that may arise within the first year or two after homeowners move in. This can include issues with the roof or walls, plumbing, electrical systems, and other features. Some warranties may even cover longer-term issues that may arise due to construction defects. Knowing that their home is covered by warranty protection can help new homeowners feel secure in their investment and provide them with peace of mind for years to come. Again depending on the builder you use when buying new construction, they will typically offer a one year warranty and maybe longer for structural issues. Ask for a copy of the warranty at the closing.
New Homes For Sale In Johnston County Available Now
In many parts of the country there is currently a lack of inventory of homes for sale in nearly every price range and listings in the Johnston County MLS are certainly in that category . In 2023 established communities in Johnston County have struggled to keep up with the number of buyers interested in purchasing a home despite the higher interest rates. Therefore new construction communities where the builder may offer incentives on available new construction have seen increased interest from buyers. Any home search set up by your real estate firm should include Johnston County new construction homes. If your agent is local to Johnston County they probably will know of new developments and could find new homes that are not yet listed in the MLS. Typically builders agents only list new homes after drywall ins installed, not always but something to keep in mind.
Buying New Construction Homes In Johnston County
In summary, new construction homes in Clayton, NC offer a variety of advantages including customization options, energy efficiency, low maintenance, modern amenities, warranty protection, and community amenities. If you're in the market for a new home, be sure to consider new construction as a viable option. With the help of a knowledgeable real estate agent, you can find the perfect new home to meet your needs and preferences.
This post was written by David O'Doherty, a licensed real estate agent since 2007 helping buyers and sellers in Clayton, NC and the Greater Triangle Area of North Carolina. He is committed to providing his clients with exceptional service and personalized attention throughout every step of the real estate process. If you're looking to buy or sell a property in Clayton, NC, or the surrounding areas or have any questions about the local real estate market, don't hesitate to contact David O'Doherty today. Call or Text (919) 601-2268 or email [email protected]